The second of our featured Team Leaders is the lovely Andrea of Dragon Art Glass. One of our local team members, Andrea is Welsh through and through, and as her shop name suggests, she works in glass. She originally caught the glass bug working with stained glass and wow her stained glass is good! Stunning really!
As she ventured into the world of glass though her inner pyro emerged and she found her true calling in lamp work and fused glass, and her stuff is really lovely. Her photos definitely don't do her pieces; especially her beads justice! It's always hard to get a good picture of something as small as a bead, and as reflective as glass, but also having seen her beads I found the weight and the tactile nature of them really beautiful, and you just can't get that across in a photo.
Andrea is a wonderful example of what you should do when you find yourself made redundant, up to 2013 she had dipped her toe in a few craft fairs here and there, but with her redundancy she dived straight into running her own business, no looking back and she has made a success of it. You go girl! 🙂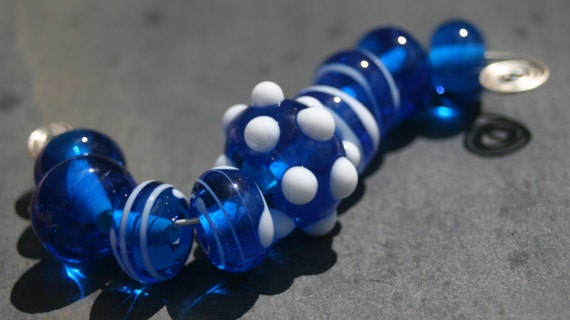 My favourite pieces of hers are her lampwork beads I'm especially loving this blue set, but of course that might be the jeweller in me planning what I could do with them!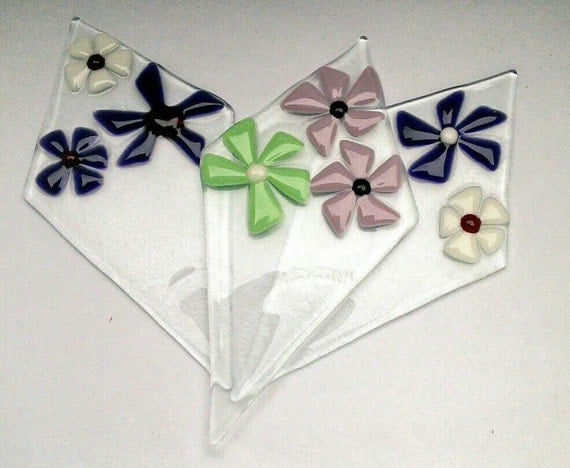 I'm also quite fond of these plant pot diamonds, I do like a random bit of whimsy.
For the set up of Etsy Made Local Cardiff, Andrea has been invaluable! Saving the rest of us from melt down by dealing with the oh so reasonable automatons that are insurance companies. Mass murder may have happened if that job was left to me! She's also very nicely offered little ol non driver me a lift to meetings that weren't so public transport friendly, which is much appreciated, the chats have been lovely too 🙂 So thanks for stepping up Andrea, and looking forward to seeing all your lovely beads and other pieces….  I'm mostly excited about the beads, I'll be honest it's the magpie in me… in the shop!