Continuing our series of meet the makers we have Hannah Stracy of Pick Me Floristry.

Can you tell us a little about what you do?
Hi I'm Hannah a dog and flower loving individual! I'm a florist by trade and have transferred the skills over into the items in my Etsy Store! I make artificial flower items for all of lifes occasions, in particular weddings!
How did you get started? 
I've been training as a florist since i was 17 and have always worked with real and artificial flowers so it was the natural next step to growing the business!
Where are you from?
Despite being English I've lived in Wales for the majority of my life, around the Valleys area. I speak Welsh and play the harp so I think that makes me pretty Welsh?!
My workshop is based on the outskirts of Cardiff. I love it! We followed my grandparents from London and have stayed in the area. The landscape is what keeps the love there. I take so much inspiration from my surrounding and love to use home grown in my fresh arrangements!
What's your favourite part of what you do? 
The ability to keep creating and evolving into your own style instead of someone elses. Your brain is always having to think of the next thing. The uncertainty is exciting!

What's your favourite item to make?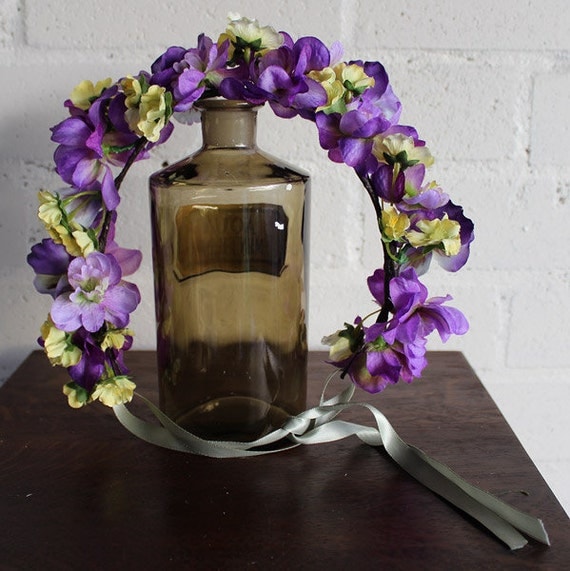 Floral Crowns! I love them! They can be seen as old fashioned but have made a big come back over the past few years and I hope they stay!
What inspires you? 
Nature. Nature, in my opinion is the ultimate inspiration. There is so much that we'll never know which allows us the ability to keep discovering
What was your proudest moment? 
I created a bouquet and Alan Titchmarsh loved it!
If you won a million pounds what would you do? 
Probably what I already do..and maybe buy my dog his own miniature house?!
You can find Hannah on Etsy at any time, and of course she will be with us at Tramshed on the 4th of December with her amazing makes!