In the run up to our amazing Etsy Made Local event at Tramshed December 4th, we're going to be running a series of blogs highlighting our amazing makers.
First up we have CAVETSY's newest team leader Emily Kakili of Emily England Designs 
Can you tell us a little about what you do? 
I make handmade artists books and paper cuts. I also make cards, bookmarks, decoration and sketchbooks… so not much!
How did you get started? 
I studied Graphic Design at uni but wanted do something more hands on and crafty. I went on a bookbinding course which I loved and started the business not long after this.

Where are you from? 
I'm from Builth Wells in Mid Wales, I've been living in Cardiff for just over 2 years and I love it! The arts and crafts scene has grown substantially over the last few years and I think it's a great place for creatives to live and work. We moved here because I wanted to base my business in Wales but also wanted to live in a city so Cardiff seemed like the perfect choice.
What's your favourite part of what you do? 
Having a lie in on a Monday!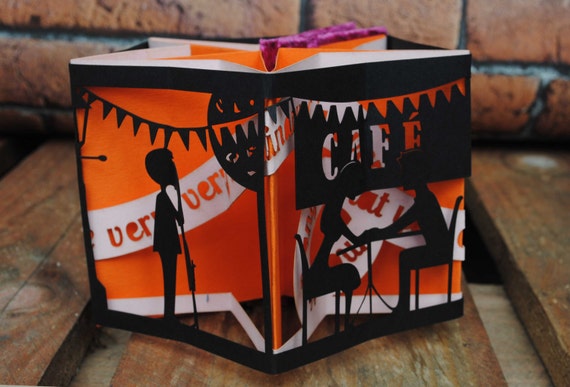 What's your favourite item to make? 
My little books, I love the form and watching peoples reaction when they open them. I have a few different ones but I think my favourite is my little book of love 
What inspires you? 
Random things! Sayings, nature, people, film quotes – anything really!
What was your proudest moment? 
Being asked to be a team leader for CAVETSY – obviously.
If you could pass any law what would it be? 
That the arts become a compulsory subject at School like maths and science.
If you won a million pounds what would you do? 
Freak out!
You can find Emily on Etsy at any time, at the end of the month she'll be at Made By Hand Cardiff and of course she will be with us at Tramshed on the 4th of December with her amazing makes! ….She's also responsible for our lovely posters and flyers!