Continuing our series of meet the makers we have Nicky Barter of The Catkin Boutique not only is Nicky an active mamber of CAVETSY but somehow she also manages to captain the Hereford Etsy Team. Go Nicky!  
Can you tell us a little about what you do?
Using my original animal illustrations I design and make jewellery, cards and totes. I like to make items that are cute, quirky and beautiful.
My jewellery is made from shrink plastic printed with my own illustrations of animals. I hand cut, bake, varnish and glaze each item so they are finished to a high standard. I love the tiny details you can get drawing onto shrink plastic, I've tried laser cutting and other materials since, but nothing is quiet like shrink plastic for detail.
My tote bags and cards are made from hand silkscreen printing my drawings onto fair trade totes and cards. I enjoy the printing process and like experimenting with different kinds of prints like stencil, silkscreen and lino.

How did you get started? 
I've always been creative, spending most of my free time drawing when I was younger. And I enjoy designing and making. I wanted to combine these passions and make a living doing what I loved.
I stumbled across shrink plastic, a craft that I hadn't tried since I was little, and I started playing around with little cartoon designs, drawing in pen and ink- my favourite medium. I first started selling these jewellery designs alongside drawings I exhibited at a local village open studio week. I was surprised how popular they were and thought I'd try listing them on this Etsy website I noticed a lot of other illustrators used. Etsy really opened up a whole new world for me, and made a living of crafts a possibility rather than a farfetched dream. I've gone on to sell at markets and through shops and hope my little business keeps growing.

Where are you from? 
I grew up in Monmouth, and used to visit Cardiff a lot when I was younger. It was the best place to go shopping because of the arcades and independent shops. Now I live in Cardiff I still love the shops and cafes, but I spend most of my time in the beautiful parks!
What's your favourite part of what you do? 
I'm happiest when I'm drawing, designing and making. I love to whittle away hours with an idea, a sketch book and my music playing. Making a living doing what I love is a dream come true. It can be stressful being self-employed but I like the freedom. If it's a sunny day I can usually find some work I can take outside with me and do in the local park.

What's your favourite item to make? 
I love printing my Christmas cards. When you have a new design you can't know exactly how it'll look when you peel the screen back from the paper so it's always an exciting reveal.
With my winter animal designs I use two colours of blue ink to make a marbling effect, so there is a big element of chance with how the image will look each time you print it. I love that everyone has a different looking card from each other.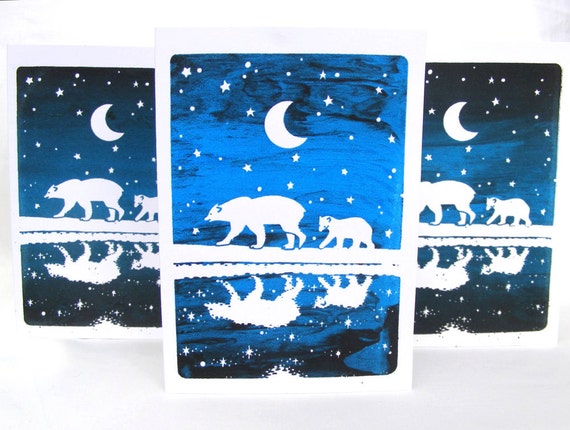 What inspires you? 
I'm inspired by animals, old book illustrations, Japanese prints and cute Korean stationary.
I'm inspired by drawing and printing too. The more I sketch or try things, the more ideas and enthusiasm I have.
What was your proudest moment? 
I've had many proud moment since I've started my little handmade business; contributing to a book, being stocked in shops around Britain and abroad and mentions in magazines. But my first Etsy sale is near the top! I still remember it was for a rabbit brooch to a lady in Australia. It blew my mind that someone on the other side of the world was going to wear something I had made, and that I had sold to a person that was not related to me in anyway!
If you could pass any law what would it be? 
Everyone would have to paint there house a different colour and fill there gardens and roof tops with plants and solar panels. Down with beige! Down with tarmac drives!
If you won a million pounds what would you do? 
Share it with my family, buy a flat and travel with the rest! I would probably write/ draw some sort of travel journal and make everyone sick with jealousy when it was published. Oh and open an animal sanctuary!
You can find Nicky on Etsy at any time, and of course she will be with us at Tramshed on the 4th of December with her amazing makes!