Continuing our series of meet the makers we have Becci Holmes of In Rainbows
Can you tell us a little about what you do?

I make a lot of crochet items including taxidermy animal heads, cactus in pots, avocados, brooches and necklaces. I've also made a new range of glitter brooches and Christmas decorations. Nearly everything that I make has a eyes and a smile.
How did you get started? 
I got into being a maker after a friend showed me how to crochet and then I just couldn't stop, haha!
Where are you from? 
I am Welsh. I grew up in Barry and I have been living in Cardiff for the past 4 years.
What's your favourite part of what you do? 
Crocheting is my favourite part of being a maker and that awesome feeling of walking to the post office with all your etsy orders. I'm doing something that I'm passionate about and that I enjoy.
What's your favourite item to make?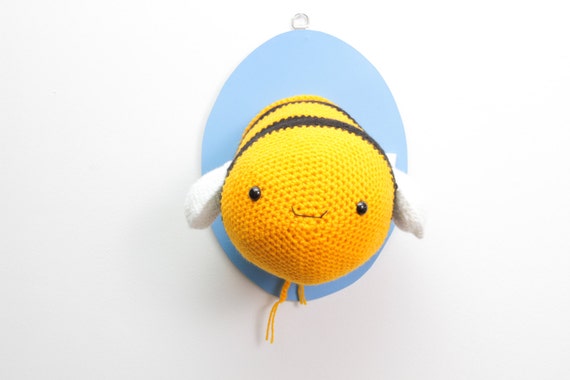 My favourite item is the crochet taxidermy bee head. I just love bees and I love the colours that I've used together.
What inspires you? 
I'm inspired by colour, cute animals, rainbows, glitter
If you won a million pounds what would you do? 
If I won a million pounds I would travel and see even more of the world including Bali, Sri Lanka, Japan and Portland.
You can find Becci on Etsy at any time, and of course she will be with us at Tramshed on the 4th of December with her amazing makes!