Next up on our meet the makers series we have Eveline of ToastyHugs

Can you tell us a little about what you do?
I mainly make cards and frames using various media. I am married and a mum. I have 3 children and a cat. My daughter Amy got me started with Etsy and is an important part of ToastyHugs. She is a Graphic Communication student.
How did you get started?

I have always loved making things. Circumstances kind of led me to make it a more serious full-time occupation. I don't think I would have felt able to do it without the encouragements of my friends and family. I started my Etsy shop in January 2015.

Where are you from? 
I am French, but have been living in Wales for 25 years and I consider Wales to be my country of adoption. (My children say they are Welsh even though they have a French Mum and an English Dad.) I live in the seaside town of Barry but have lived in Cardiff too and love the Welsh Capital City.
What's your favourite part of what you do? 
I love spending a big chunk of my week being creative and making things while drinking lots of cups of tea and listening to all my favourite music. I also love it when people give me custom orders and I can make something special just for them.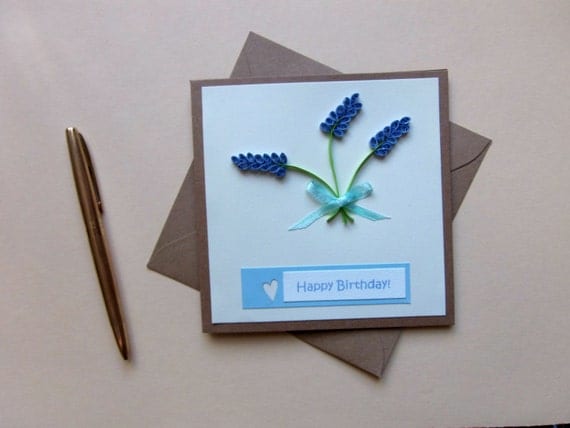 What's your favourite item to make?

Cards with quilled flowers, especially the lavender ones. Paper Quilling is an awesome technique used in ancient times and popular in the Renaissance and Victorian eras but it has made a bit of a come back. It is very versatile and can be used to make endless designs, very modern ones too.
Top of my favourites are also the items I make with tiny knitted jumpers.

What inspires you? 
The sea, nature, gardens, cats and so many other things!
What was your proudest moment? 
Starting to actually make money.
If you could pass any law what would it be? 
Hugs, chocolate and art related classes on the NHS.
If you won a million pounds what would you do? 
Fix my house and give the rest to charity. No chance though!
You can find Eveline on Etsy at any time, and of course she will be with us at Tramshed on the 4th of December with her amazing makes!